Super Full Moon in Scorpio- Honoring the Intensity of Your Being, The Love of Power or the Power of Love, Sweeping Changes That Run Deep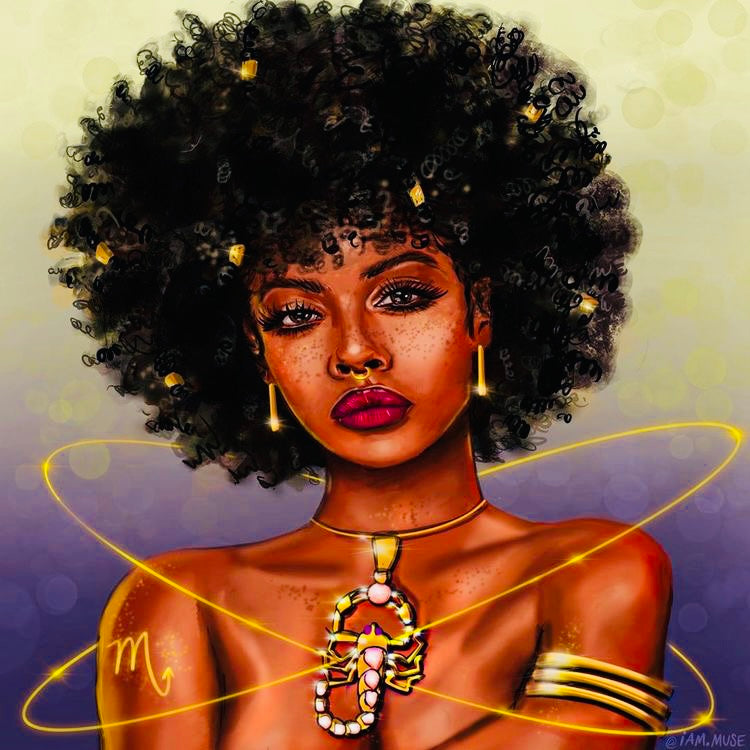 On April 26/27th we have the powerful and potent Super Full Moon at 7 degrees of Scorpio. This is the 2nd Super full moon of 4 that will happen in 2021. This one is sure to be a doozy so be prepared. Full Moons are already highly emotional and bring our feelings to the surface to be cleansed and released. They also represent endings, completions and manifestations. Being that this is a Supermoon, which is much brighter and more visible than a regular Full Moon, will intensify these emotions even greater. Scorpio, the 8th zodiac sign, deals with shared resources, power, transformation and sexuality. 
The Super Full Moon in Scorpio is here to bring up unresolved and deeply psychological issues to the surface to be purged and released. An intense and cathartic energy of emotions are sure to be felt and experienced by many. Scorpio as a sign also deals with death and at the same time resurrection. This sign is the most misunderstood of all the 12 signs. Scorpio energy goes where no mere mortal can go and wants the whole truth, no silver lining and to get to the bottom of any problem. This is often why the sign of Scorpio is so feared but also why they are so respected. It takes guts to face issues head on and to have the resolve and grit to come back from those depths of feelings with a renewed strength and sense of purpose. 
The Super full moon in Scorpio will want you to face the skeletons within your own closet and will reveal the true intentions of others. Many secrets from the past could be brought up during these next 2 weeks. These could have to do with how others have misused or manipulated their power and control. These truths could be quite dark but the lesson of this powerful full moon will be around making space for the darker aspects of life and instead of running or hiding from them, confronting them with humility. This is where the true power and courage of Scorpio energy lies. Confrontation in all forms is their speciality. The darkness of life is just as natural as the light. In fact, one cannot exist without the presence of another. 
This Super Full Moon in the Scorpion's den will ask us to be brave and to be willing to look our fear straight in the face once and for all. No more denying. No more putting it under the rug. No more repression. Major and profound healing of these inner wounds is what is possible within this next lunar cycle. If you are willing to be honest with yourself, this Full Moon will hold the keys to your soul being cleansed on a deep cellular level. A washing away of the past ways of being that were connected to fear or rejection could be one possible manifestation. This Scorpio Super Full Moon won't be kind to those not willing to confront their sh**.  Expect the unexpected and be ready to dive deep. Enlightenment and trust is what this Full Moon will bring forth for those willing to do the work. 
One of the main aspects that the Scorpio Full Moon will make with her other planetary brothers and sisters will be a tense opposition( 180 degree aspect) to Uranus, the planet of change, curveballs and freedom. The Super Full Moon in Scorpio opposing Uranus in Taurus will lead to some interesting and unexpected emotions that might come up from nowhere. The Taurus/Scorpio axis in astrology deals with "value of myself" vs. "value of others". A sudden awakening to how we have been giving away our own power could be revealed. Surprises of all kinds around money and resources is also another manifestation of this aspect. Some could hit the jackpot, while others could experience a sudden blow to their resources. However it plays out, you won't see it coming. Being present and aware is the best way to deal with Uranus's opposition to the Full Moon. 
The Scorpio Super Full Moon is here to show you that you can face the darker aspects of life with grace and compassion. Truly there is no other way out but through. There is an acknowledgement with this potent Full Moon of things, people and values that we need to let go of. This might at first seem super scary but truth be told we as humans are pretty good at release and allowance. This last year has taught us the meaning of being shaken to the core and still finding the strength and willpower to rise once again. Sometimes things need to die to make room for fresh energy. This is the natural cycle of life. 
The Scorpio Super Full Moon wants you to honor the process of letting go with resiliency and softness. No need to be harsh or cruel with yourself. This is the time to end such suffering and to be your own best friend. The Scorpio Super Full moon is here to bring issues of power and control up to the surface to be dealt with, have you face your darkest fears with reverence and kindness and to remind you just like the phoenix rising from the ashes, you too can remake and transform yourself... it is your superpower and your natural birthright.
To read how the Super Full Moon in Scorpio will effect your sign, please follow me over to my Patreon page for the extended sign horoscopes: https://www.patreon.com/astromomma
Patreon is a subscription based service of $4 or $6 USD per month that gives you access to my extended articles, discounts on my personal readings and more. Your love and support on Patreon allow Astromomma to grow and expand. I am extremely grateful for your support and love! Thank you my loves!!
Image: Queen of Scorpio by @lammusw
#astrologyupdate #astrology #scorpio #superfullmoon #superfullmooninscorpio #release #intensity #depth #transformation #manifestations #pinkfullmoon #goingindeep #majorhealing #thephoenixrisingfromtheashes
--