New Moon in Sagittarius- Truth Is Like the Sun.. You Can Only Shut It for So Long But Sooner or Later it's Gonna Come Out, Unbridled Optimism + Faith Returns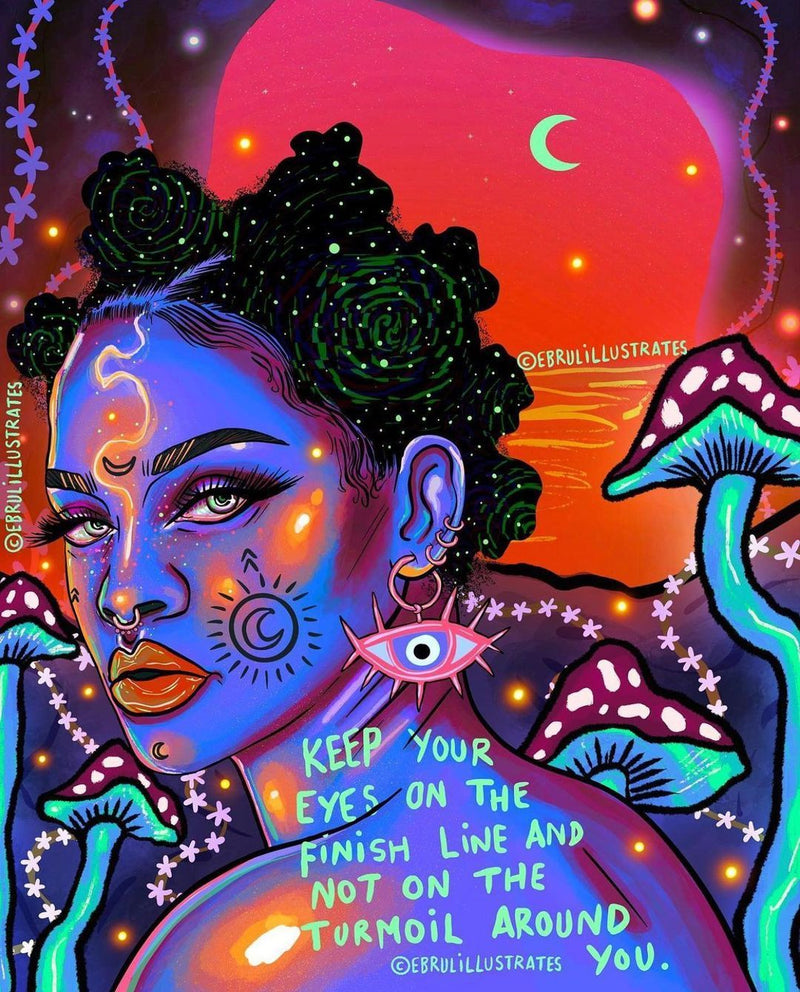 On November 23rd/24th, we have the fiery and optimistic New Moon at 1 degrees of Sagittarius. New Moon energy is all about new starts, beginnings, and wiping the slate clean. In the day or so before we have a new moon, the energy is raw and we feel uneasy and unclear. The renewal energy of New Moon brings in a fresh element of hope and clarity. Sagittarius, the 9th zodiac sign, is all about faith, higher learning, truth, travel and wisdom. 
The New Moon in Sagittarius is here to bring forth a renewal of our faith and authenticity. After a very difficult and trying eclipse season, I would be suffice to say we all need some lightness and fun times again. This beautiful New Moon wants us to step back into a space of believing in ourselves + what is possible beyond our current struggles + worries. There is a higher perspective coming forth around speaking our truth + standing in a space of looking at the glass as half full instead of half empty. Travel, teaching and education are also highlighted now. This is a great lunation to go out and publish a book, blog or any other inspiring material that uplifts our soul. There could also be a lot of truths + realizations coming to the surface at this time. Some folks could be introduced to a new mentor, teacher, guru or discover these qualities within. A fiery and direct energy that is fun and enlightening is finally here to grace our lives.
On the same day of the New Moon in Sagittarius, Jupiter, the ruling planet of the sign will turn direct at 28 degrees of Pisces. This is significant and powerful. When a sign's ruler turns direct, we are given the green light to proceed forward. Jupiter rules all things connected to education, travel, higher education, faith and trust in oneself and the universe. It is also the planet of luck and expansion. Jupiter, the ruler of this New Moon turning direct will create a deepening of our faith and spiritual capacity. There is also a renewed recognition of our sensitivity and ability to look at things through a more philosophical lense. If you felt lost or just felt pretty low this direct motion of Jupiter coupled with the New Moon in Sagittarius wants to put a pep back in your step and a renewal of your capacity to believe in the goodness of life again. 
For folks with their Sun, Moon or Ascendant signs on or close (+/-) to 1 degree of Sagittarius, will be most impacted by this New Moon. Expect bright new beginnings connected to your physical body, outlook, career, home life and relationships. A whole new level of optimism and warmth is here for you. Some could begin a huge personal project that will have a lasting impact on their quality of life for quite some time. For everyone else, check where 1 degree of Sagittarius falls in your natal chart to see where these positive and encouraging new beginnings will be most noticeable. Fiery vibes mixed with a higher perspective of enlightenment will be felt by all at this time.
The New Moon in Sagittarius is here to bring forth a brand new energy of renewal and a spark of inspiration and exploration. No other sign is as optimistic and forward thinking as a trail blazing Sagittarius. We are ready to release the trials + heaviness of the recent eclipse season and to step into a new era of wisdom and unbridled faith. 
This New Moon wants you to proclaim your inner truth to the world with fiery abundance and exuberance! There will be a fire lit in your ass to get movin and groovin with La Luna anew in the sign of the archer. The New Moon in Sagittarius is here to open new pathways of higher knowledge and understanding, create a space for our authentic truths to come forth and to remind us that tough times don't last but tough people do.. the light always reappears at the end of the long dark road. 
To access my special extended sign horoscopes for this fiery New Moon in Sagittarius, please join me over on my Patreon page: https://www.patreon.com/astromomma
In the extended sign horoscopes on Patreon, I provide guidance and direction for each zodiac sign on what to focus on for this prosperous New Moon and what to release + a special mantra to focus on. All channeled from spirit. Thanks for your love!
© Astromomma, 2022

Image: @ebrulillustrates
#astrologyupdates #astrology #newmoon #newmooninsagittarius #sagittarius #jupiter #fire #passion #hope #truth #mutable #faith #planets #beginnings #inspirational